Ronnie Lee Gardner, 49, was sentenced to death for killing an attorney 25 years ago during a failed escape attempt and shootout.
Ronnie Lee Gardner had a quarter-century to ponder his choice, whether to die by lethal injection or take four bullets in the heart.
Picture of Ronnie Lee Gardner.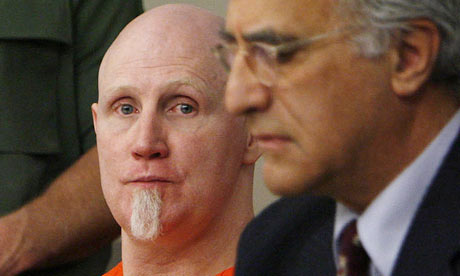 Before signing the death warrant, Third District Judge Robin Reese asked Gardner if he wanted to be executed by the method he had chosen previously, spokeswoman Nancy Volmer said.
"I would like the firing squad, please," Gardner replied.
Utah joined the rest of the US in banning firing squads in 2004, mainly owing to embarrassment at the hordes of media which descended for earlier executions and portrayed the state's justice system as a relic of the wild west.
But Gardner is one of about 10 prisoners who were sentenced to death before the ban and so have to be offered the choice. Some of the others have also said they will opt for the firing squad.
The last time that a firing squad was used in Utah was in 1996 at the request of John Albert Taylor, who was convicted of the rape and strangulation of a girl, 11. Taylor had insisted on a firing squad because he did not want to "flop around like a dying fish" under a lethal injection. After quoting a line of poetry — "Remember me, but let me go" — he was shot in front of witnesses including a journalist who called it "an honest way to die".
Those closest to the men killed and wounded by Ronnie Lee Gardner remain sharply divided on whether he should be executed.