About 20 people were injured and blocked of homes were damaged when the tornado touched down early Thursday evening in Wadena MN.
Wadena is a town of about 4,000 about 20 miles northeast of Almora. The two towns are about 70 miles southeast of Fargo, N.D.
Lori Wolden, wife of Wadena mayor Wayne Wolden, says "there's houses half-gone" and "there's no trees" in the southwest part of town.
Two people died from Thursday's storms. A man was killed when a twister hit the Cenex station in Mentor, in northwest Minnesota and earlier, authorities in Otter Tail County reported a woman killed by a tornado in Almora.
Down the road in Parkers Prairie Mayor Don Zuehlke returned to his farm just outside of town to find the place in ruins. Zuehlke reports that three 300 foot turkey barns were destroyed, an antique barn flattened.
Pictures of the Wadena MN tornado.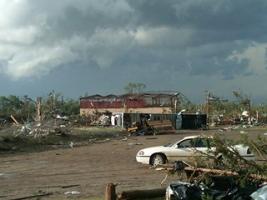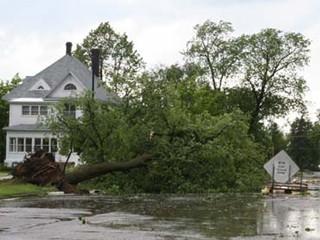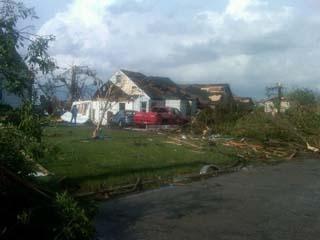 In southeast Minnesota numerous reports of damaged homes, farms and crops are coming from Freeborn County.
The National Weather Service has issued a tornado warning for southern Douglas County, northwestern Washburn County and northeastern Burnett County until 10:30 p.m. The service also has extended a tornado watch for most of Northeastern Minnesota, including Duluth and the Iron Range, until 11 p.m. A tornado watch is also in effect for Northwestern Wisconsin until 1 a.m.
Power is out throughout the region where the tornado struck. Salvation Army Disaster Response Teams are reporting to the area to assist with food, snacks and beverages and to provide assistance with housing if needed.