Anna Chapman is accused of betraying the American way by spying for Moscow - an allegation that stunned longtime pals. Russian officials have confirmed that some of the group were Russian citizens, but said that "they have not committed any actions directed against US interests."
Chapman took an apartment a block from Wall Street and began using online social networks, including LinkedIn and Facebook, to develop business contacts and to market her skills. On her LinkedIn page, Chapman is listed as the chief executive officer of PropertyFinder Ltd., which maintains a website featuring real estate listings in Moscow, Spain, Bulgaria and other countries.
She lists previous jobs at an investment company and a hedge fund in London. The summary also says she earned a master's degree in economics at a Russian university in 2005.
Anna Chapman was arrested by the FBI along with nine others. The ten accused were arrested in the US and charged with failing to register as foreign agents, a crime that is less serious than espionage, and which carries a sentence of up to five years in prison. Some also face money laundering charges.
Conspiracy theorists are already asking, why did the arrests come just days after President Obama's friendly cheeseburger summit with Russian President Dimitri A. Medvedev? Was the White House sending a message, or the F.B.I. trying to sandbag détente?
Photos of beautiful spy Anna Chapman.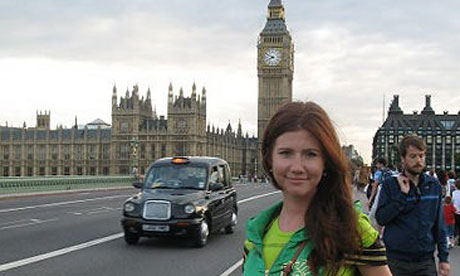 She's definitely hot.
Anna Chapman has a facebook account and she posted some videos expressing her thoughts about America.
"For me, America is a free country and it is the easiest place in the world to meet the most successful people," Anna Kuschenko Chapman says in a video posted on Facebook.
Russian Prime Minister Vladimir Putin expressed the hope that the arrests of the 10 Russians for spying on the US will not hamper diplomatic ties between the two countries.