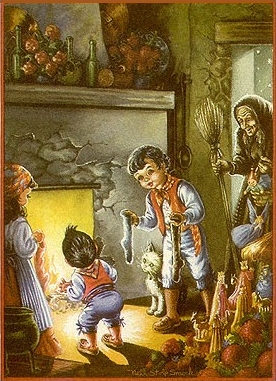 The legend of Babbo Natale (Santa Claus) has existed in Italy mostly since the days of World War II. However, there is even a more ancient (and popular) Italian Christmas tradition that has its origins traced back to the 13th century: the legend of "La Befana"
Deriving from the word Epiphany (Greek term meaning "manifestation" or "appearing"), the legend of "La Befana" is that of an old witch lady with a big red nose and slight hunch, dressed in a jacket of colorful patches. She is often pictured with a broom.
The true giver of gifts in Italy is La Befana. La Befana is an old crone who delivers gifts to deserving girls and boys on Epiphany.
The Befana is a Christmas witch that comes 12 days after Christmas on January 6. January 6 is Epiphany and is a celebration of the visit by the three wise men to the baby Jesus. La Befana is derived from Epifania, the Italian for Epiphany.
In the distant past the people of Italy thought La Befana was evil. They rang clay bells and made noise to keep her away. Now she is viewed as a gentle spirit that will give gifts to the children of Italy.
To this day she wanders, carrying her gifts and treasures, peering into the faces of babies as she goes. Still she seeks the Christ child. Though she has not found him, she gives what she can to the sweet children she visits each Christmas night. Her heart still longs for her baby and the gifts she brings are her way of feeling that child's love.