Sarah Palin -- the biggest hero of the right -- was caught by AP photographers with cliff notes on her hand.
In the picture of her hand, you can read the top word, energy, pretty clearly.
Also visible in the photo are the word "tax," "lift American spirit" and "budget cuts."
The speech itself was predictable. There were things to excite her supporters and things to annoy her detractors.
Here's the picture of her hand notes.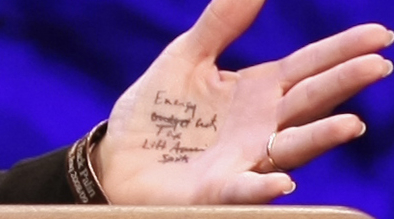 This is the video when Sarah Palin looks at her hand during a Q&A session.
Sarah Palin pathetically reading cheat notes scrawled on her hand at the Tea Party Convention Q&A session.
It became clear that she had notes written on it.
Sarah Palin likes to make fun of President Barack Obama for being articulate but this time the joke was on her.