Northern Iowa over Kansas? He picked it.
Ohio over Georgetown? Got that one, too.
Cornell to the Sweet 16? Check.
Alex Hermann is a 17 year old math wizard from Glenbrook South High School. He studyís the stats during the games and percentages which obviously seems to work. The actual odds of a person having a perfect bracket through the first two rounds are 1 in 13,460,000. Hermann is using the CBS Sportsís Bracket Manager where the commissioner is the only one who can change picks post game. Somebody might just have some explaining to do but for now you have to tip your hat to this kid.
As far as anyone can tell, he is the only person on the planet with a perfect bracket in what's been the wildest NCAA Tournament in memory.
Picture of Alex Hermann, the autistic boy.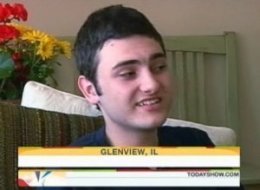 "I'm good at math," Hermann, a student at Glenbrook South High School, said. "I'm kind of good at math and at stats I see on TV during the game."
The odds of someone picking every game of the first two rounds correctly? Bookofodds pegs that as 1 in 13,460,000.
Alex entered the bracket on bracket challenge, one of three NCAA bracket games offered by CBS. Unfortunately, it's the only one without a cash prize awarded to the winner.
Somebody sign this kid, hey who knows there might just be a spot waiting for him at HotCappers down the road.
As for Alex Herrmann, he's still got a few more upsets up his sleeve. If his bracket is to remain perfect, he needs Purdue, his brother's alma-mater, to win the national championship.