There have been 4 deaths, six have gone missing and 113 were injured in Hungary.
Emergency workers have poured 1,000 tonnes of plaster into the Marcal river to try to bind the sludge that burst from a waste reservoir and keep it from flowing on to the Danube, 45 miles away.
Here's a picture of Hungary's toxic sludge.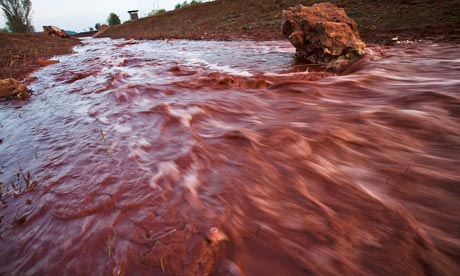 The torrent of sludge has poured into fields and nearby streams, killing animals and fish in the region. According to The New York Times, "residents in Kolontar, not far from where the accident occurred, tried to rush from their homes as a 6-foot-high wave of sludge pushed its way through narrow streets and homes."
The injured were treated at hospitals for burns and eye irritation. Ambulance, armed forces and other authorities are present at significant numbers to rescue, detoxicate the area and secure safe transport.