It was funny.
An airplane flew over Augusta National, asking, "TIGER: DID YOU MEAN BOOTYISM?" Bootyism, according to the authorities at Urban Dictionary, is "a religion originating in the east(coast) encouraging the endowment of large quantities of (female) booty, getting booty, banging booty, etc."
During the first public statement about his marriage woes in February, Woods said the Buddhist teachings he learned from his Thai mother, Kultilda, would help him get his derailed life back on track.
The expensive prank took place shortly after Tiger Woods teed off on his first hole, and pokes fun at Woods' comments during his recent public apology that he would be devoting more time to Buddhism.
Tiger Woods didn't appear to see the snarky Bootyism banner -- or the one carried by another plane that flew above later.
This is the banner that flew over the Masters Golf Tournament. "TIGER: DID YOU MEAN BOOTYISM?"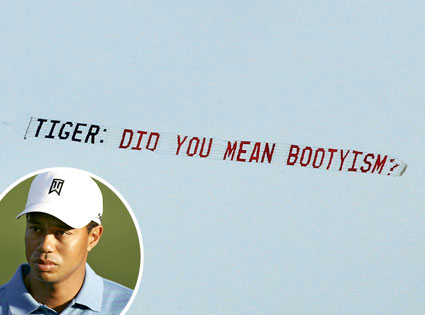 And here is a video of the Bootyism prank.