Oasis of the Seas is the world's largest passenger vessel which has an original carousel, an array of restaurants, surfing simulators, rock-climbing walls, a tropical living park.
Well, to begin with, at 225,000 tons, "Oasis of the Seas" is, by far, the largest cruise ship ever built. Longer than New York City's famed Chrysler Building, Oasis is SO big that it has "neighborhoods" such as Central Park, Royal Promenade and the Boardwalk. Like a city at sea, each neighborhood has its own unique "personality" along with numerous attractions that everyone onboard can enjoy, such as the huge AquaTheater, an amusement park, an ice-skating rink and countless other innovations that you would never expect to find on a cruise ship. Together, the neighborhoods also contain a total of 2,700 staterooms (including two-story loft suites) that will accommodate the 5,400 passengers that Oasis will indulge each week on 7-night Eastern Caribbean and 7-night Western Caribbean cruises round-trip from Port Everglades (Fort Lauderdale), Florida.
The ship is sold as an urban experience, a city on the ocean, and on a preview voyage out towards the Caribbean that is what most people seemed to enjoy: getting a cappuccino in one of the ship's seven distinct "neighborhoods" and indulging in some serious consumption.
How big is big? Five times the tonnage of the Titanic, the Oasis is longer than any aircraft carrier in the US fleet. It is half as big again as the O2 centre. Stand it on its end and it would look down on Canary Wharf's towers.
For its first year, Oasis of the Seas will travel an East and West Caribbean itinerary that includes ports like St. Thomas, Philipsburg, St. Maarten, Labadee, Costa Maya and Cozumel. With spring cruises in the Eastern Caribbean to be found for around $1,099, budget travelers should keep in mind that Royal Caribbean can impose an additional fuel supplement of up to $140 per cruise ($10 per guest per day) should "the price of West Texas Intermediate fuel exceed $65 per barrel."
These are pictures of the Oasis of the Seas. You can compare the sizes of the Titanic and the Oasis in the first picture.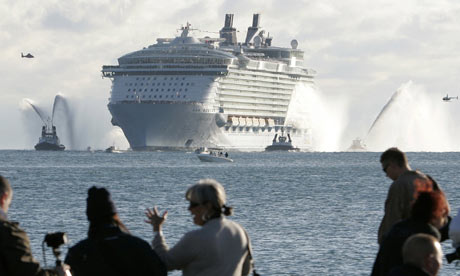 And here is a video of the Oasis of the seas.