What happened to Victoria Beckham?
In case you were wondering just how tiny the 5′6″ Victoria Beckham is, here is the concrete evidence in Marc Jacobs's brand new Spring '08 campaign.
Photographed by Juergen Teller, Victoria Beckham shows off her tanned legs and the Marc Jacobs reverse heels. It's a rather awkward position, after all who falls into a bag and their legs are spread that wide?
"There was a lot of discussion about Victoria being in our ads and tons of blogs on the Internet about 'Should she or shouldn't she?,' 'What's going on with Marc Jacobs?,' and 'Has he lost his mind?'," Jacobs explained. "We thought the funniest thing would be to show the Victoria Beckham ads that don't show Victoria Beckham, but just to see those legs coming out of the bag."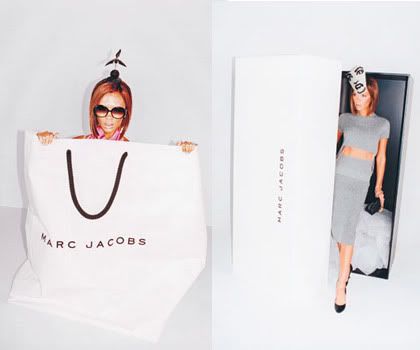 "The images are humorous and ironic," Beckham said. "You can't be afraid to experiment with fashion, especially when working with Marc and Juergen — you have to push the envelope and show a different side.
"Marc is a genius," she added. "I completely trusted his vision and the opportunity to work with Juergen again after so many years was a privilege."
Source