This is one of the pictures of John Edwards' mistress Rielle Hunter from GQ magazine.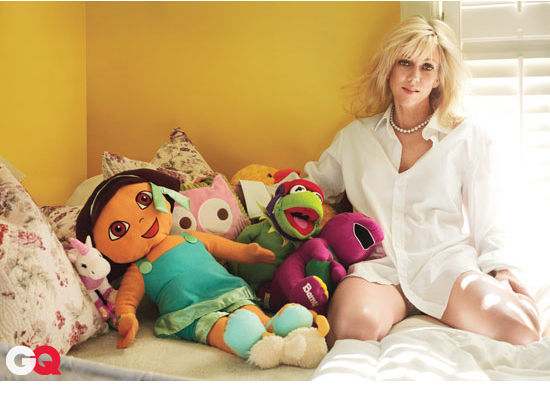 Monday morning, on "The View," Walters recounted a conversation she had with Hunter after Hunter saw the photos.
Hunter said she trusted the photographer, Mark Seliger, to take classy photos and just "went with the flow."
The photos accompany Hunter's first interview — indeed, first public comments — since she emerged as Edwards' other woman in 2008, igniting his stunning political downfall. In the article, she maintains that she and Edwards are still in love and that he wants to be a full-time dad to their daughter, now 2. She does not, however, discuss exactly what the future holds for their relationship. Edwards' wife Elizabeth has breast cancer.
Wow, what's going on with Rielle Hunter? She agreed, obviously, to dress a certain way for the photo shoot. It doesn't take a rocket scientist to figure out that the photos are going to turn out in a way that's sexually suggestive. What Rielle Hunter's doing is playing the old publicists trick of doing something outlandish, or racist, or in this case just plain awful, then saying 'I didn't know,' or 'It was misunderstood.' It's a ploy borne of celebs reacting to rapid Internet exposure and public comment. If they don't like the action, they say what Rielle Hunter's saying.
Hunter says she's still in love with "Johnny" and believes he loves her. She went on to say that his marriage was "toxic," and that he feared "the wrath of Elizabeth."
Hunter also confirms her first words to Edwards in their initial meeting were, "You're so hot." She claims he begged her to call him and that hours later they met in his room.
According to People.com, GQ's publisher, Conde Nast, claims it is trying to reach the photographer and has no comment until then.