UADDit
(
http://uaddit.com/discussions/index.php
)
-
Weather
(
http://uaddit.com/discussions/forumdisplay.php?f=60
)
| | |
| --- | --- |
| Jessie | 01-12-2011 08:36 PM |
---
Floods in Australia 2011 Pictures?

The 2011 floods in Australia are the worst for decades and have left lots of people dead and dozens missing.

In Brisbane, Australia's third largest city and the capital of Queensland, the river reached a record of 4.46 meters. Of the 2 million people living there, one-third were told to leave their homes.

Hundreds of people were being housed in flood evacuation centers across the country.

How many deaths have been caused by the floods in Australia? Where can I see pictures of the flooding?
| | |
| --- | --- |
| Trevor | 01-12-2011 08:38 PM |
---
The death toll in the Australia currently stands at 12, with over 40 missing. The cleanup and repair will take an estimated two years and millions of dollars.
More than 20,000 homes and 3,500 businesses have been affected by the floods and 115,000 homes are without power.
The flooding in Australia was caused by La Niņa, which is a periodic climate phenomenon between the Pacific Ocean and the Earth's atmosphere.
The Australian Bureau of Meteorology predicts that La Niņa is likely to persist into the southern hemisphere autumn, raising the possibility of further torrential downpours.
These are some of the flood pictures taken in different parts of Australia.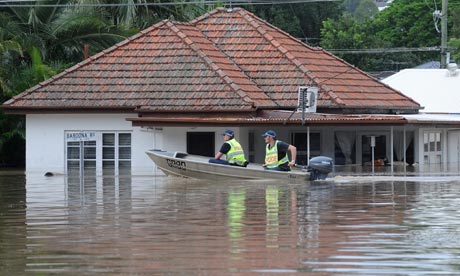 All times are GMT. The time now is

04:27 PM

.
vBulletin® Copyright ©2000 - 2019, Jelsoft Enterprises Ltd.