UADDit
(
http://uaddit.com/discussions/index.php
)
-
Aircraft
(
http://uaddit.com/discussions/forumdisplay.php?f=102
)
| | |
| --- | --- |
| Anthony | 03-30-2010 07:35 PM |
---
Plane Crash Roanoke Virginia Pics?

A Roanoke plane crash left Virginia residents shocked. It appears as though a small plane has crashed into a UPS Freight building in an industrial park. My brother saw the pictures and he says the impact crater of the plane crash site is about 5 feet deep.
The small private plane crash happened at about 12:30 p.m. Tuesday just north of the Roanoke Regional Airport in Virginia.

Roanoke Airport spokeswoman Sherry Wallace said the 1985 single-engine Piper was taking off and the pilot told air traffic controllers there was a problem shortly before the plane crash.

How many people were inside the plane? Are they alright?
Are there pictures of the Roanoke plane crash?
| | |
| --- | --- |
| Jayden | 03-30-2010 07:41 PM |
---
WSLS has confirmed through a Roanoke Regional Airport spokeswoman that a small plane with two people on board crashed into the UPS Freight building, near the airport this afternoon.
According to a press release sent by the airport, the Piper PA46 aircraft attempted to take off at approximately 12:50 p.m. After calling for emergency assistance from the air traffic control tower, the plane crashed into the building.
The airfield was shut down for about ten minutes following the crash.
Heavy smoke could be seen rising from the area, WSLS reported.
It's believed that the plane was arriving at the airport when it reported to the control tower that it was having some trouble. The reasons for the plane's problems are not known.
NTSB investigators found the pilot began to drift left on the runway's center line during takeoff roll. The pilot told investigators that he applied right rudder, then the air-plant turned sharply right "as if I over-corrected to the right."
The NTSB report says the pilot pulled the throttle to idle, but the airplane veered onto the grass on the right side of the runway edge, and went down an embankment. The plane went through a small culvert, the nose gear then collapsed, and the plane stopped in a drainage ditch.
Pictures of the Roanoke VA plane crash.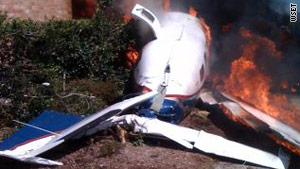 | | |
| --- | --- |
| Guest | 03-31-2010 11:00 AM |
---
Sounds like a different description to me....I did not know that the NTSB had released any statements yet. Also....drainage ditch....building...again it sounds like someone is describing a different incident.
All times are GMT. The time now is

10:15 PM

.
vBulletin® Copyright ©2000 - 2019, Jelsoft Enterprises Ltd.